Kitchen Exhaust Fan
The standard product for ventilating a domestic kitchen is a rangehood over the cooking area. At Pure ventilation we offer some alternatives to this including roof mounted options as well as inline and ceiling mounted fans.
Roof Mounted Kitchen Ventilation Fan
A popular solution is to install a roof mounted fan. A roof fan is a popular alternative to a rangehood as the motor is much further away, therefore minimising the noise within the kitchen. You would then run ducting (typically semi rigid or fire rated ducting) to an intake vent over your cooking area or into the kitchen if you are looking for general ventilation. This solution means that you can pick an attractive intake vent that may be similar to your outdoor design theme/style and it ends up being much smaller and unobtrusive than a large rangehood canopy.
Example Products for a metal roof:
Inline Fan for Kitchen Ventilation
Another popular and equally effective solution can be an inline fan in the roofspace/void above your kitchen. Similar to a roof mounted solution the fan does not have to be installed directly above you, therefore once again minimizing the noise. At the other end of the inline fan you can either run ducting to a roof cowl or an external wall vent. A popular inline fan model for this application is the Fanco VKM centrifugal fan. This fan can be wired by an electrician to a variable dimmer style switch, meaning you can control the speed (extraction rate) of the fan. You may not always require the fan to be operating at full speed, so this can be a very useful feature for this particular application. This is a popular solution for large open plan kitchens where a rangehood may detract from the design.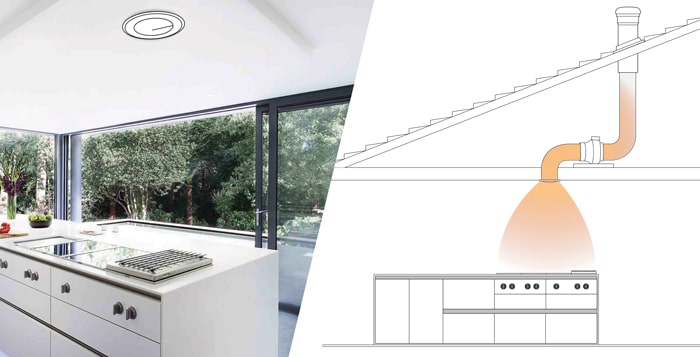 Example Products for ducted inline system:
Example Products for ducted inline system with roof vent (metal roof):
---
The above information is a general guide and does not constitute specific advice.
This article was written on 19th February 2019 by our in house specialist Andy.