The standard product for ventilating a domestic kitchen is a rangehood over the cooking area. At Pure ventilation we offer some alternatives to this including roof mounted options as well as inline and ceiling mounted fans.
Roof Mounted Kitchen Ventilation Fan
A popular solution is to install a roof mounted fan. A roof fan is a popular alternative to a rangehood as the motor is much further away, therefore minimising the noise within the kitchen. You would then run ducting (typically semi rigid or fire rated ducting) to an intake vent over your cooking area or into the kitchen if you are looking for general ventilation. This solution means that you can pick an attractive intake vent that may be similar to your outdoor design theme/style and it ends up being much smaller and unobtrusive than a large rangehood canopy.
Example Products for a metal roof:
Capacity: 550 m3/hr (130 l/s)
Motor Type: Centrifugal
Ductable: Yes (150mm duct diameter)
View full technical specs further down the page

---

High quality aluminium roof cowl with incorporated fan. The roof fan has the motor component in the Aluminium cowl at the top (see picture below). Also included in this package is a HDPE tube and dektite for a metal roof. These fans are extremely high quality designed for longevity of operation. The fan also operates quietly when you are inside the premises, making the roof fan a popular choice for the noise conscious or those with limited space. Note the colour differs from the image shown, most items are silver.

---

Need Accessories? –

Scroll to the bottom of the page to view suitable accessories including ducting and vents.

$

399.00

An inside vent/grille for use with exhaust fans. It is normally placed on the ceiling or wall.

It comes in different sizes, to match the duct used, and the air flow is adjustable: the centre part is rotated clockwise or anti-clockwise to open or restrict airflow.

Features
Available in a number of sizes
Adjustable airflow
Suitable for Ceiling or Wall mounting
304 Grade Stainless Steel

$

59.00
Inline Fan for Kitchen Ventilation
Another popular and equally effective solution can be an inline fan in the roofspace/void above your kitchen. Similar to a roof mounted solution the fan does not have to be installed directly above you, therefore once again minimizing the noise. At the other end of the inline fan you can either run ducting to a roof cowl or an external wall vent. A popular inline fan model for this application is the Fanco VKM centrifugal fan. This fan can be wired by an electrician to a variable dimmer style switch, meaning you can control the speed (extraction rate) of the fan. You may not always require the fan to be operating at full speed, so this can be a very useful feature for this particular application. This is a popular solution for large open plan kitchens where a rangehood may detract from the design.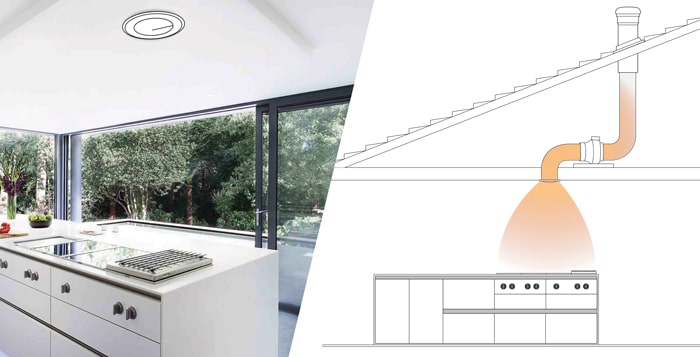 Example Products for ducted inline system:
Example Products for ducted inline system with roof vent (metal roof):
---
The above information is a general guide and does not constitute specific advice.
This article was written on 19th February 2019 by our in house specialist Andy.